Sloppy Farmer Joes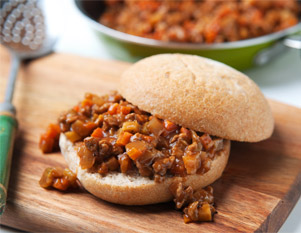 Cooking Times
Ingredients
Directions
In a large skillet, heat olive oil over medium heat. Add all the diced vegetables, as well as chili powder and salt and pepper.
Sauté for about three minutes, then cover for 5 minutes. Carefully remove cover and add turkey. Stir and separate the turkey as it cooks. Stir to combine vegetables and turkey meat, until cooked through, about 4 minutes. Add ketchup, brown sugar, water and Worcestershire sauce and mix well to allow the sugar to melt.
Stir to coat all the meat and vegetables and allow simmering for 4 minutes to meld all the flavors together. Sprinkle with diced green onions and serve between hamburger buns.
Recipe E-book
Back To Our Roots
12 sweet, savory, and fresh recipes using our favorite Cal-Organic root vegetables.
Download