Our Story
Family tradition through generations.
Certified since 1984
PIONEERS OF ORGANIC FARMING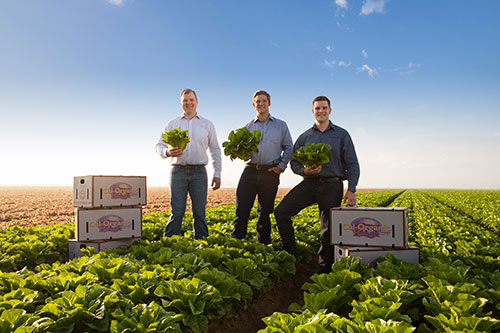 Cal-Organic Farms started with a quarter acre of lettuce and the determination to do things differently. More than three decades later, we've grown to produce more than 65 seasonal and year-round vegetables and we've been able to increase our organic acreage year after year. We're driven by a responsibility to care for the land and for our customers, and we're proud to promote family values and integrity in all that we do.
Industry Pioneer
Established in 1984, our farming practices have been handed down from generation to generation.
Grown in the USA
We are proud to grow 100% of our produce on premium acreage in the USA.
Honestly Organic
Our farms, facilities, and fresh produce exceed USDA standards for organic certification.
Sustainable Farming
As stewards to the land, we strive to reduce waste, save energy and utilize more renewable resources.
Our History
From Past to Present
1984

The Duncan Family started Cal-Organic Farms with just a quarter acre of land in Lamont, CA.

2001

Cal-Organic joined Grimmway Farms to expand distribution and make quality organic produce more widely available to consumers.

2003

Cal-Organic was named Vendor of the Year by Wild Oats Markets.

2007

Cal-Organic opened a produce stand in Tehachapi, CA and welcomed the public to purchase organic fruits and vegetables right from the farm. We continue to open the stand each summer from June to September.

2015

Cal-Organic received the Supplier of the Year award from Whole Foods Market.

2016

Albertsons Companies of Southern California recognized Cal-Organic Farms as Produce Vendor of the Year.

2021

Today Cal-Organic is the largest organic vegetable producer in the United States. Supplying more than 65 seasonal and year-round varieties, we are proud to grow 100% of our produce on premium acreage in the USA.