Roasted Vegetable Ravioli Lasagna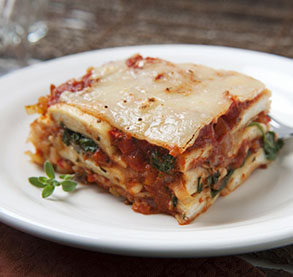 Cooking Times
Ingredients
Directions
Preheat oven to 350 degrees Fahrenheit. Place diced pepper, leek, carrots and red onion on a sheet pan and drizzle with 1 tablespoon olive oil, salt and pepper. Bake for 25 minutes.
Meanwhile, add the other tablespoon of olive oil to a skillet and heat over medium high. Add the spinach and toss in the oil until slightly wilted, about 3 minutes. Remove from heat and set aside.
After the vegetables have roasted, turn the oven up to 400 degrees Fahrenheit and begin to assemble the lasagna.
In an 8"x8" baking pan or casserole dish, begin by adding sauce, layer the frozen raviolis, half of the spinach, a quarter of the roasted vegetables and a quarter of the cheese and continue layering the sauce, ravioli, roasted vegetables and cheese three more times ending with cheese on top.
Bake for 30 minutes until sides begin to bubble.
Recipe E-book
Back To Our Roots
12 sweet, savory, and fresh recipes using our favorite Cal-Organic root vegetables.
Download