Rainbow Vegetable Kabobs With Creamy Sriracha Sauce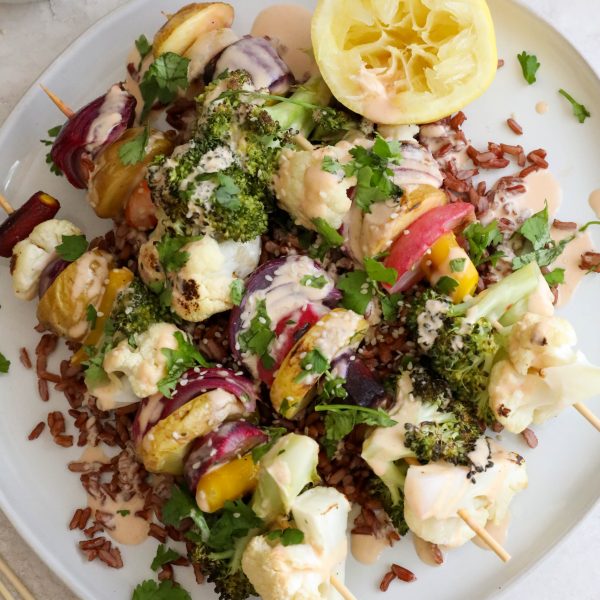 Cooking Times
Ingredients
Directions
1. Make the creamy sriracha sauce in advance by adding the tahini, sriracha, and water to a bowl and whisking until it's smooth and creamy. Add more filtered water as needed to reach your desired consistency. Refrigerate until it's ready for use.
2. Dice the potatoes and slice the onions into large chunks. Peel and diced the carrots and cut the radishes into halves. Break the cauliflower and broccoli into florets.
3. Line two baking sheets with parchment paper and preheat the oven to 400°F. Add the cubed potatoes, radishes, and carrots to the first sheet and transfer them to the oven to bake for ~30 minutes. Add the cauliflower, broccoli, and red onion to the second prepared baking sheet and transfer them to the oven when the first pan has ~20 minutes left on the time.
4. Remove the vegetables from the oven when they're just fork tender but not mushy, watching closely in the last ~5-10 minutes to ensure they don't burn.
5. Allow the vegetables to cool slightly for 15 minutes, or until they're cool enough to work with.
6. Transfer them to a large bowl and add in the avocado oil, lemon juice, salt, and pepper. Mix everything to coat the roasted veggies.
7. Assemble the vegetables on bamboo skewers* in an alternating fashion until all of the vegetables are used up.
8. Heat a grill or grill pan. Once the pan or grill is warm, add the vegetable skewers and cook them for 10 minutes, rotating the kabobs every 2-3 minutes to ensure all sides are browned.
9. To serve, plate the kabobs alone or served over rice, quinoa, or your grain of choice with the cream sriracha sauce for dipping. Garnish the kabobs plate with fresh cilantro and sesame seeds and enjoy!
10. Store any leftover kabobs in an airtight container in the refrigerator for up to one week and reheat before serving.
Recipe created by Flora & Vino 
Recipe E-book
Back To Our Roots
12 sweet, savory, and fresh recipes using our favorite Cal-Organic root vegetables.
Download