Chunky Vegetable Marinara with Fresh Arugula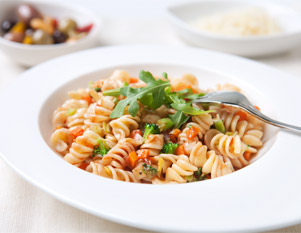 Cooking Times
Ingredients
Directions
Bring a large pot of salted water to a boil. Cook the pasta until al dente, about 10 minutes, then drain and set aside.
Meanwhile, heat the olive oil in a skillet. Add the fennel, garlic, leeks, carrots, broccoli and Italian seasoning and sauté for about 5 minutes, tossing frequently. Deglaze the pan with the red wine and scrape the bottom of the pan with a wooden spoon to incorporate all the flavor of the cooked vegetables. Stir in the tomato sauce or salsa and simmer for about 10 minutes.
Serve over the warm pasta and top with a handful of fresh arugula over each serving.
Recipe E-book
Back To Our Roots
12 sweet, savory, and fresh recipes using our favorite Cal-Organic root vegetables.
Download