Baked Cauliflower with Cherry Tomatoes and Shallots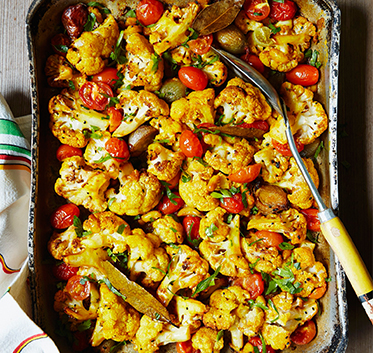 Cooking Times
Ingredients
1 head, cut into florets

Cal-Organic Cauliflower

6

medium shallots, peeled but left whole

8 oz.

cherry tomatoes, rinsed and halved

3

bay leaves

1/2 cup

water

1/4 cup

extra virgin olive oil

1 tbsp.

lemon juice

1 1/2 tbsp.

ground turmeric

1/2 tsp.

ground sweet paprika

1/4 tsp.

ground cumin

1/2 tsp.

salt

1/4 tsp.

cracked black pepper

1/4 cup, finely chopped

Cal-Organic Italian Parsley
Directions
Preheat oven to 375°F.  In a large mixing bowl, combine the cauliflower, shallots, tomatoes, and bay leaves.
In a separate bowl, combine the water, oil, lemon juice, turmeric, sweet paprika, cumin, salt and pepper. Drizzle over vegetables and toss to coat.
Roast in preheated oven for 40 to 45 minutes or until cauliflower florets are golden and caramelized.
Sprinkle chopped parsley over the top and serve.
Recipe and image from our e-book Back to Our Roots
Recipe E-book
Back To Our Roots
12 sweet, savory, and fresh recipes using our favorite Cal-Organic root vegetables.
Download