Warm Dandelion Greens with Bacon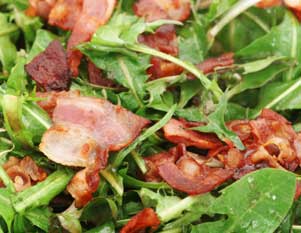 Cooking Times
Ingredients
1/2 tsp.

sugar

4 slices

bacon, chopped

2 tbsp, chopped

Cal-Organic Red Onions

1/4 cup

cider vinegar

1 clove

garlic, chopped
Directions
Wash greens well. Cook bacon over medium-high heat 2-3 minutes, until crisp.
Add onion and garlic, cooking 2-3 minutes, stirring occasionally.
Add vinegar, sugar and dandelion greens, stirring well. Cover and cook until greens are wilted.
Recipe E-book
Back To Our Roots
12 sweet, savory, and fresh recipes using our favorite Cal-Organic root vegetables.
Download