Quick Curry Carrot Soup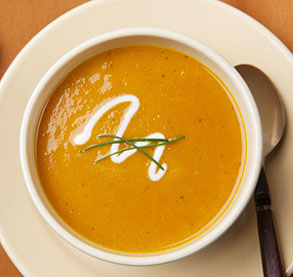 Cooking Times
Ingredients
Directions
In a sauce pan, heat the olive oil over medium heat. Add the diced onions, diced carrots, curry powder, cumin and salt and pepper. Toss to combine and allow to cook for about 3 minutes.
Add the chicken broth and cover the pot. Continue to cook over medium heat for another 15 minutes.
Carefully remove the cover and puree the soup in batches in a blender. Or simply puree the soup in the pot using an immersion blender wand until smooth.
Recipe E-book
Back To Our Roots
12 sweet, savory, and fresh recipes using our favorite Cal-Organic root vegetables.
Download