Green Shakshuka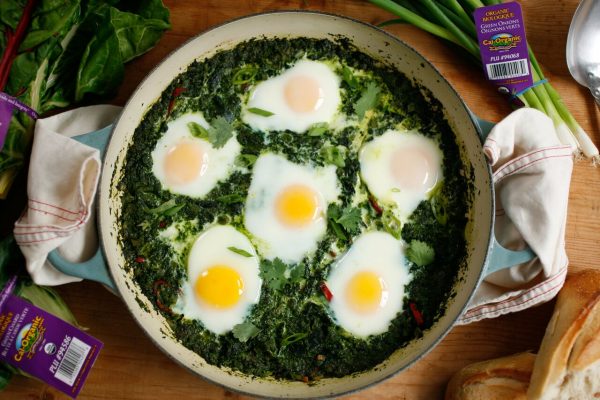 Cooking Times
Ingredients
Directions
Preheat oven to 325 degrees Fahrenheit. Remove the stems from the green chard and lacinato kale, then roughly chop into 1-inch strips. Roughly chop the green onion and finely chop the yellow onion and cilantro, leaving extra cilantro for garnish.
Add ice and water to a large bowl. Bring a medium pot of salted water to a boil. Add the chard and kale greens to the boiling water in batches and boil until it's wilted, but hasn't lost its green color, about 15 to 20 seconds. Immediately transfer to the icy water to cool.
Once the greens have been cooked, set aside about 2 cups of cooked greens in a medium bowl. Add the remaining greens to a blender or food processor with 2 tablespoons olive oil and the cilantro and green onions. Add 1/2 cup to 1 cup of icy water to the blender to loosen the mixture. Pulse the blender until mixture becomes a coarse purée, like a salsa.
Heat a large, oven-safe skillet over medium heat. Add 1 tablespoon olive oil and once heated add yellow onions. Cook the onions for about 2 minutes, or until they're softened and translucent. Add garlic, chili peppers and cumin; cook for 30 seconds, or until fragrant.
Add remaining chopped greens, season with salt and pepper, increase heat to medium-high and cook until wilted, about 2 minutes. Pour in the blended greens and cook for another 3 to 4 minutes. Taste for seasoning, adding more salt and pepper, if desired.
Use the back of a wooden spoon to create 6 small wells in greens, making sure the bottom is still covered in greens. Gently crack an egg into each one of the wells. Transfer the skillet to the oven and bake for 10 to 15 minutes, or until the eggs are mostly set, but the yolks are not fully cooked.
Remove from the oven and sprinkle with cilantro and sliced green onions, then serve with hot sauce and crusty bread, if desired.
Recipe E-book
Back To Our Roots
12 sweet, savory, and fresh recipes using our favorite Cal-Organic root vegetables.
Download