Fall Bruschetta with Dandelion Greens and Butternut Squash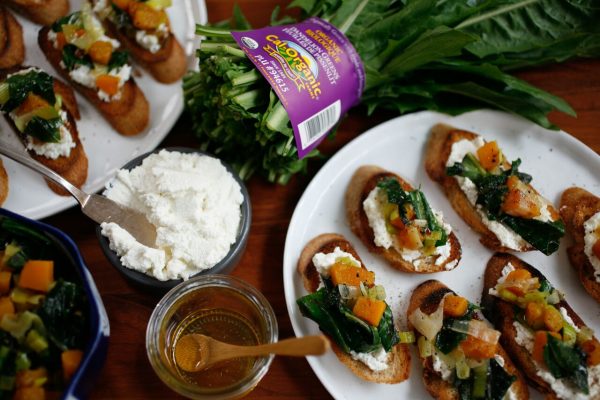 Cooking Times
Ingredients
1 bunch, roughly chopped

Cal-Organic Green Dandelion Greens

1 sliced

Cal-Organic Leeks

2 cups

butternut squash, cut into 1/2-inch pieces

1 cup

ricotta

1

baguette, sliced on a bias

3

garlic cloves, halved

1/4 cup

olive oil

2 tbsp.

honey

Kosher salt, to taste

Freshly cracked black pepper, to taste
Directions
Preheat oven to 450 degrees Fahrenheit.
Spread baguette slices in a single layer on a baking sheet. Drizzle with 2 tablespoons of olive oil and bake—flipping halfway through—for 15 to 20 minutes or until golden brown and crisp. Let cool slightly, then rub each slice with the cut side of a garlic clove. Set aside until ready to use.
In a large skillet over medium-high heat, heat olive oil. Add butternut squash and cook without stirring for 3 minutes, or until one sides begins to brown. Flip the cubes and then continue cooking, stirring occasionally, until the cubes are browned on all sides.
Move squash from the pan to a bowl. Add the remaining tablespoon of olive oil to the pan and then add the leeks. Cook, stirring frequently for a few minutes until the leeks begin to brown.
Add the greens and 2 tablespoons of water. Cook until wilted, about 30 seconds. Season with salt and pepper. Transfer the greens and leeks to the bowl with the squash and toss to combine.
Arrange the toasted baguette on a serving tray or platter. Spread a thick layer of ricotta on each piece of toast. Sprinkle a little salt and freshly cracked pepper on the ricotta.
Spoon about one tablespoon of the squash mixture onto each piece of toast. Drizzle the toasts with honey and serve warm or at room temperature.
Recipe E-book
Back To Our Roots
12 sweet, savory, and fresh recipes using our favorite Cal-Organic root vegetables.
Download