Chilled Dilled Carrot Salad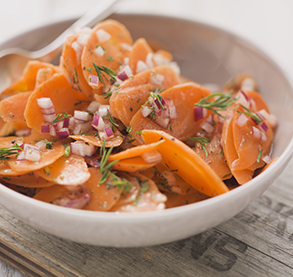 Cooking Times
Ingredients
Directions
Parboil carrots until tender yet crisp, about 2 minutes. Rinse under cold water and drain.
Combine carrots and onions. Mix remaining ingredients in small bowl until well blended. Pour over carrot mixture and toss well.
Refrigerate at least 3 hours to blend flavors.
Recipe E-book
Back To Our Roots
12 sweet, savory, and fresh recipes using our favorite Cal-Organic root vegetables.
Download