Cauliflower Salad with Rainbow Chard and Bacon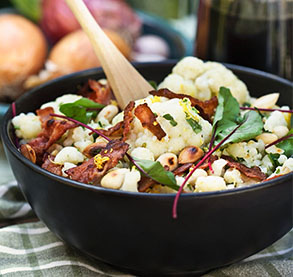 Cooking Times
Ingredients
Directions
Roughly chop rainbow chard.
Cook and chop bacon. Set aside to cool.
Chop cauliflower into evenly sized florets. Add ice and water to a bowl. Bring a medium pot of salted water to a boil and blanch cauliflower uncovered for 3 minutes. Strain and immediately transfer to the icy water to cool.
Combine all ingredients in a large mixing bowl.
Gently toss until well combined. Serve.
Recipe E-book
Back To Our Roots
12 sweet, savory, and fresh recipes using our favorite Cal-Organic root vegetables.
Download