Roasted Harissa and Lemon Cauliflower Steak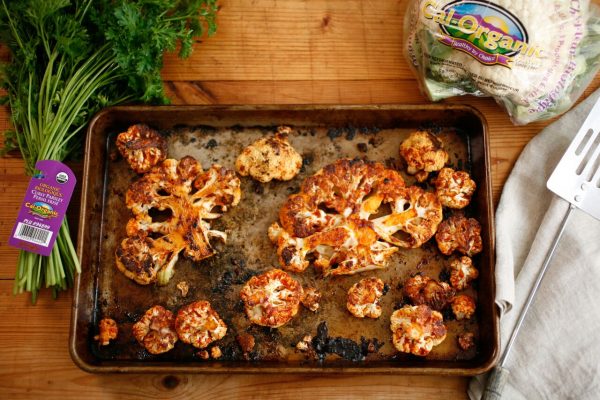 Cooking Times
Ingredients
Directions
Preheat oven to 450 degrees Fahrenheit.
Place the cauliflower head root-side down on a cutting board. Cut 2 (1-inch) slices in the center of the head. Add the remaining loose cauliflower florets to a medium bowl. Brush the steaks with 2 tablespoons of olive oil and add to a baking sheet.
Drizzle a tablespoon of olive oil into the bowl with the remaining cauliflower. Season steaks and florets with salt and pepper. Add the florets to baking sheet.
Bake for 20 minutes, flip everything halfway through. Meanwhile, whisk the harissa paste, lemon juice, lemon zest and remaining 1 tablespoon of olive oil together in a bowl.
Drizzle the mixture over the cauliflower. Add back to the oven for another 10 minutes, or until the edges of cauliflower starts to crisp.
Transfer the cauliflower to a serving dish and sprinkle with parsley. Serve warm.
Recipe E-book
Back To Our Roots
12 sweet, savory, and fresh recipes using our favorite Cal-Organic root vegetables.
Download