Cauliflower Pizza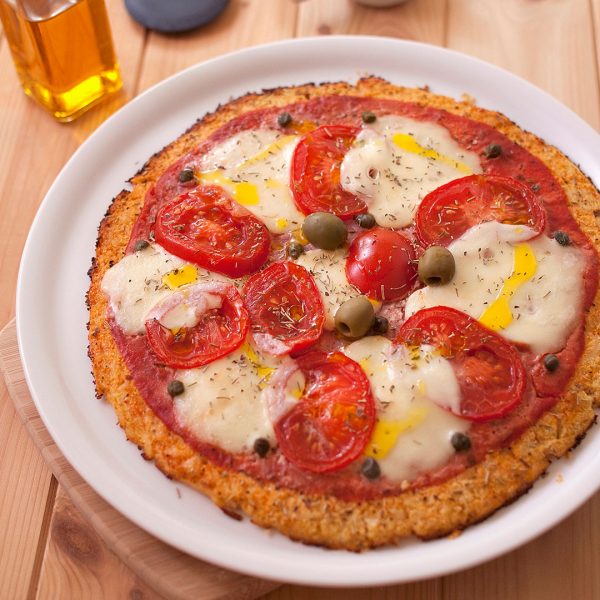 Cooking Times
Ingredients
1 head, coarsely chopped

Cal-Organic Cauliflower

3/4 cup

shredded mozzarella cheese

3/4 cup

grated Parmesan cheese

1/2 tsp.

garlic powder

1/2 tsp.

dried oregano, extra for garnish

1/2 tsp.

dried thyme

1/2 tsp.

dried basil

4

egg whites

1 tsp.

salt

1/2 tsp.

freshly ground pepper

1/4 - 1/2 cup

pizza sauce

4 oz.

mozzarella cheese, thinly sliced

1

Roma tomato, thinly sliced

3 - 4 tbsp.

green olives, pitted

1/2 tsp.

capers, for garnish
Directions
Preheat oven and pizza stone (or foil lined baking sheet) to 450°F.
Place cauliflower florets in food processor and pulse until finely chopped with no chunks.
Transfer chopped cauliflower to bowl and microwave for 6-8 minutes until cooked through.  Place the cooked cauliflower in a clean kitchen towel and squeeze out as much water as possible.  Place the drained cauliflower in a bowl, add mozzarella cheese, Parmesan cheese, garlic powder, dried herbs, egg whites, salt and pepper and mix it well, mashing the cauliflower especially well with the back of a wooden spoon.
Spray pizza stone or baking sheet with cooking oil. Place the cauliflower pizza "dough" on the pizza stone or baking sheet and shape it into pizza crust. Place in oven for 15 – 20 minutes until golden brown and crispy.
Add sauce, cheese, tomatoes, olives, capers and a sprinkling of dried oregano. Place under the broiler until cheese is melted.
Recipe and image from our e-book Back to Our Roots
Recipe E-book
Back To Our Roots
12 sweet, savory, and fresh recipes using our favorite Cal-Organic root vegetables.
Download