Rainbow Carrot Chip Stir Fry with Daikon Noodles and Chicken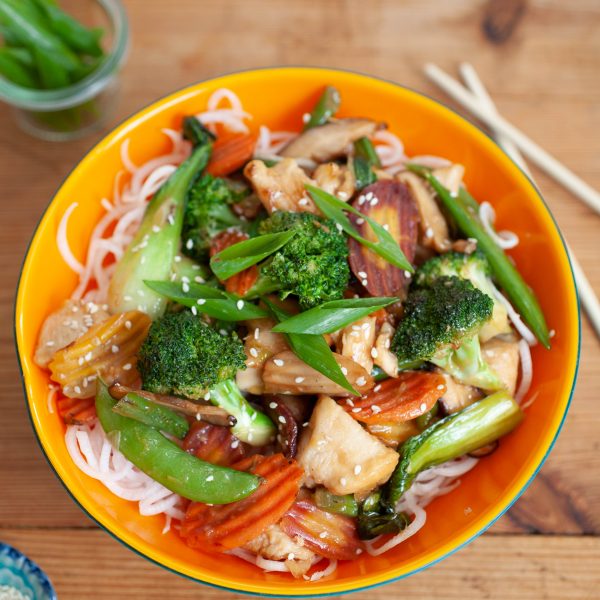 Cooking Times
Ingredients
1 cup

Cal-Organic Bok Choy

1 bunch

Cal-Organic Green Onions

1 cup

Cal-Organic Broccoli

2

boneless, skinless chicken breasts, cut into bite-size pieces

1 tsp.

salt

2 tbsp.

cornstarch

3 tbsp.

vegetable oil

1/2 cup

soy sauce

1 tbsp.

brown sugar

1 tbsp.

mirin

1 tbsp.

sesame oil

1 tbsp.

rice vinegar

1 tsp.

grated ginger

1 tsp.

grated garlic

2 tbsp.

sesame seeds
Directions
Cut root ends off bok choy and thinly slice. Cut roots off green onions and thinly slice, keeping whites and darks separate. Shred or spiralize daikon root to create noodles. Chop broccoli into florets, around 1 cup, and repurpose stems for another use.
In a large bowl, toss chicken with salt and 1 tablespoon cornstarch.
Heat a large, nonstick skillet or wok over medium high heat. Add 2 tablespoons oil and heat until it is very hot and shimmering.
Carefully place the chicken in the skillet in an even layer, trying to give each a little space. Stir and toss the chicken until it is browned on all sides, 5 to 6 minutes. While chicken is cooking, whisk together remaining cornstarch with the soy sauce, brown sugar, mirin, sesame oil, rice vinegar, ginger and garlic. Once chicken is golden brown and firm, remove it to a plate.
Add broccoli, bok choy and carrot chips. Stir and toss until vegetables are tender, 3 to 4 minutes. Stir in white green onions and cook for another minute or two. Add the chicken back to the pan. Make a well in the center of the pan and pour the soy mixture into it. Let cook for a few seconds then toss the sauce with all the vegetables and chicken until everything is coated, hot and the sauce has thickened.
Serve on a bed of daikon noodles and sprinkle with sesame seeds and the sliced dark green onions.
Recipe E-book
Back To Our Roots
12 sweet, savory, and fresh recipes using our favorite Cal-Organic root vegetables.
Download