Asian Vegetable Noodles with Spicy Peanut Sauce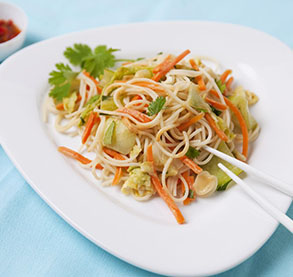 Cooking Times
Ingredients
Directions
Bring a large pot of water to boil and cook the pasta. Drain and set aside.
Meanwhile, in a skillet, heat 1 tbsp. sesame oil over medium heat. Toss in the bok choy, cabbage, carrots, green onion, salt, ginger and rice wine vinegar. Sauté, tossing frequently until the vegetables are slightly wilted, about 5 minutes. Set aside.
Make the peanut sauce by combining all the remaining ingredients, except cilantro, in a small sauce pot. Stir until well combined.
To assemble the dish, toss the cooked pasta in a large mixing bowl with the sautéed vegetables. Add the peanut sauce and toss well until combined. Serve either warm or refrigerate and serve chilled. Garnish each serving with chopped cilantro.
Recipe E-book
Back To Our Roots
12 sweet, savory, and fresh recipes using our favorite Cal-Organic root vegetables.
Download