Watermelon Salad with Green Onions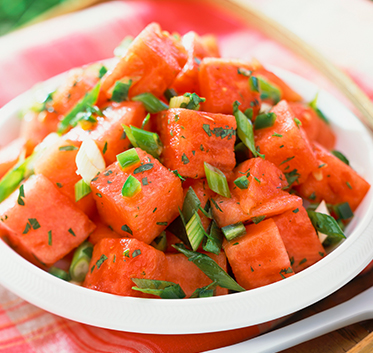 Cooking Times
Ingredients
1/4 cup, thinly sliced

Cal-Organic Green Onions

5 lb.

watermelon

3 tbsp.

fresh mint, minced

3 tbsp.

red wine vinegar

1/2 tsp.

salt

1/4 tsp.

black pepper

1/8 cup

extra virgin olive oil
Directions
Slice the melon from the rind and cut into bite-size pieces, removing and discarding the seeds; set aside in a big bowl with the onions and mint.
In a small bowl, combine the vinegar, salt, pepper, and whisk until salt is dissolved.  Slowly whisk in the olive oil a few drops at a time. Taste and adjust seasonings as necessary.
Drizzle the dressing over the melon mixture and toss gently until everything is coated and evenly mixed.
Recipe and image from our e-book Back to Our Roots
Recipe E-book
Back To Our Roots
12 sweet, savory, and fresh recipes using our favorite Cal-Organic root vegetables.
Download