Spiced Carrot Cake Oatmeal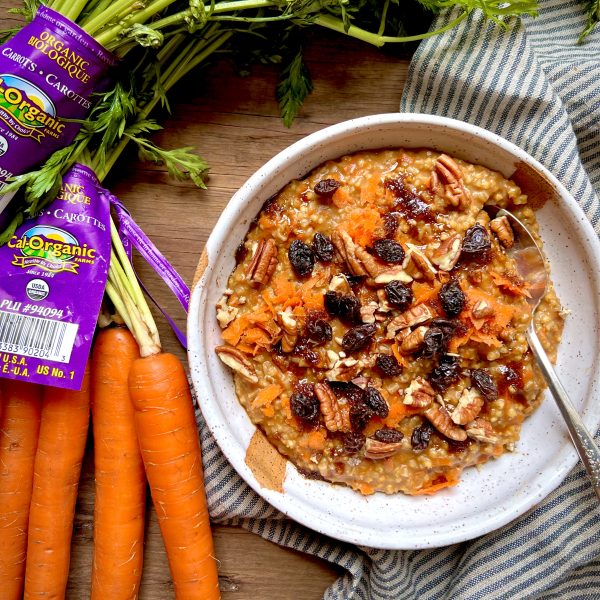 Cooking Times
Ingredients
3-4 medium

Cal-Organic Whole Carrots

3 cups

unsweetened almond milk

2 cups

water

1/2 cup

dark brown sugar

2 1/2 tsp.

ground cinnamon

1/4 tsp.

ground cloves

1/4 tsp.

ground nutmeg

1 cup

steel cut oats

1/2 cup

whole grain millet*

2 tsp.

vanilla extract

Fine sea salt,

to taste

1 cup

pecans or walnuts, toasted and chopped, for sprinkling

1 cup

raisins, for sprinkling
Directions
Begin by grating your washed carrots on the large holes of a box grater. You need about 1 1/2 cups. Add to a medium saucepot along with the almond milk, water, brown sugar, cinnamon, ginger, cloves, nutmeg and salt. Whisk together then bring up to a boil on medium heat.
Next add in the oats and millet. Stir and reduce to a low simmer. Cook for 30-35 minutes or until thick, creamy and the oats are tender, stirring occasionally. If it's too thick and the oats aren't soft enough, add more water and cook until desired consistency. 
Remove from heat and stir in the vanilla. 
When ready, spoon into a bowl, top with more brown sugar, chopped pecans and raisins. 
*Millet can be subbed with an extra 1/2 cup of oats
Recipe Courtesy of Megan Mitchell
Recipe E-book
Back To Our Roots
12 sweet, savory, and fresh recipes using our favorite Cal-Organic root vegetables.
Download