Roasted Beet, Mixed Berry & Lentil Salad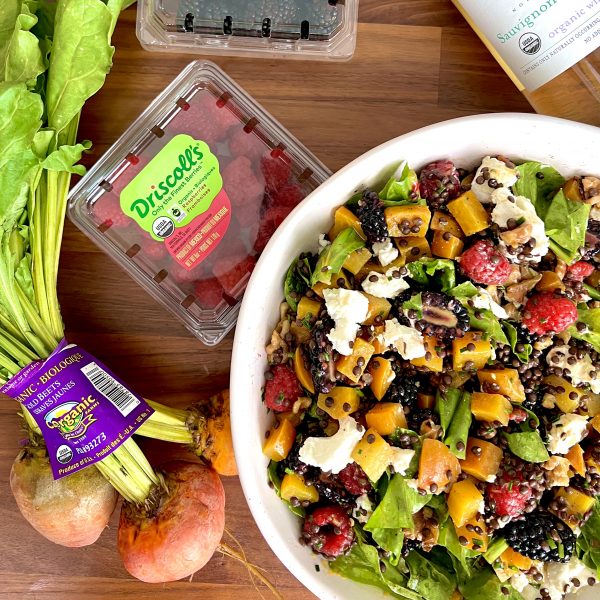 Cooking Times
Ingredients
6-7 small to medium

Cal-Organic Gold Beets

1/2 cup

extra virgin olive oil

1 cup

black lentils, rinsed

3 cups

water

1

bay leaf

1 large

lemon, zest and juice

1 clove

garlic, grated

2 tbsp.

Frey Organic Sauvignon Blanc wine

2 tbsp.

dijon mustard

Kosher salt

Black pepper

6 ounces

Driscoll's organic blackberries, halved lengthwise

6 ounces

Driscoll's organic raspberries 

1 cup

toasted walnuts, roughly chopped

1/4 cup

chives, minced

5 ounces

soft goat cheese
Directions
1. Preheat oven to 400° Fahrenheit.
2. Remove the greens from the beets and scrub the roots clean. Wash the greens and set to the side.
3. Place the beets in foil then drizzle with extra virgin olive oil, about 1/4 cup. Tightly wrap then place on a small sheet tray for easy handling. Roast for 60-65 minutes or until easily pierced with a knife. Remove and let cool slightly. 
4. Once cool, peel away the skin and cut into 1/2-inch cubes. Roughly chop the beet greens. You need about 3 heaping cups. You can supplement with baby kale if needed.  
5. While the beets roast, cook the lentils. Pour the lentils into a medium sauce pot. Add in the water and bay leaf then bring to a boil. Reduce to a simmer, place the lid half on, half off and cook for 20-25 minutes or until tender. Drain and rinse until the water runs clear. 
6. In a large bowl, add the zest and juice from the lemon, grated garlic, 1/4 cup extra virgin olive oil, sauvignon blanc, dijon mustard and a large pinch of salt and pepper. Whisk together. Add in the cubed beets, chopped beet greens and/or baby kale, cooked lentils, blackberries, raspberries, walnuts and chives. Toss together and taste for seasoning, adding more salt or pepper as needed. 
7. Lastly, crumble in the goat cheese and mix to combine. Serve and enjoy!
Recipe Courtesy of Megan Mitchell
Recipe E-book
Back To Our Roots
12 sweet, savory, and fresh recipes using our favorite Cal-Organic root vegetables.
Download