Red Chard and Garbanzo Bean Chili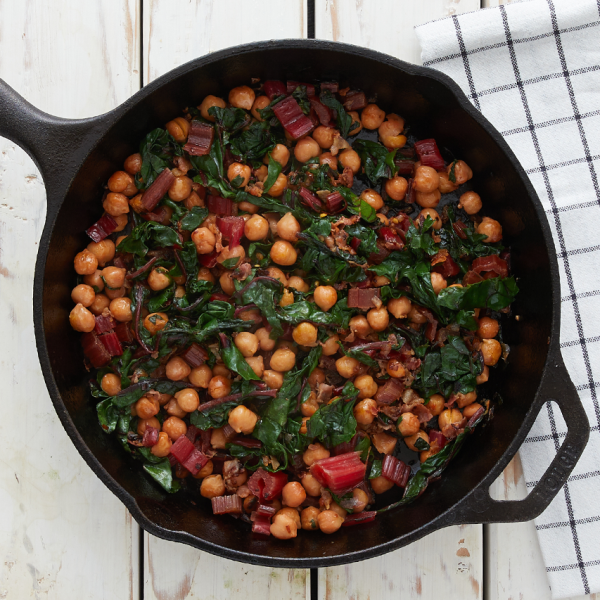 Cooking Times
Ingredients
2 lb.

Cal-Organic Red Chard

2 tbsp.

extra virgin olive oil

2 oz.

pancetta, diced into 1/4" pieces

2 tbsp.

shallot, finely chopped

1 can

garbanzo beans, drained and rinsed

Red chili pepper flakes

Salt and pepper, to taste
Directions
Wash and rinse the chard leaves, but do not pat the chard dry.
Tear the stems from the leaves and chop into ½" pieces; set aside. Stack the leaves and chop them coarsely. Keep the leaves and stems separate.
Heat extra virgin olive oil in a large skillet over medium-high heat. Place the pancetta in the skillet and cook until browned. Add the chopped shallot and red pepper flakes and stir often, until the shallot softens (around 2 minutes).
Add the chard stems and garbanzo beans. Stir occasionally for about 4 minutes. Add the chard leaves one handful at a time until they wilt. Cover the skillet and stir occasionally until the chard is tender (around 5 minutes).
Season with salt and pepper and serve hot. Enjoy!
Recipe E-book
Back To Our Roots
12 sweet, savory, and fresh recipes using our favorite Cal-Organic root vegetables.
Download