Quinoa Fried Rice with Rainbow Baby Carrots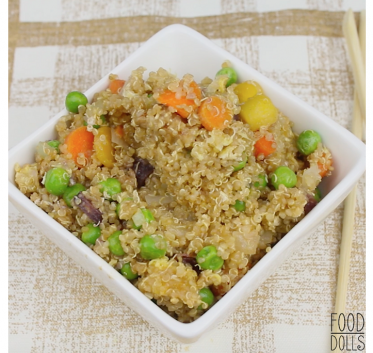 Cooking Times
Ingredients
2

chicken breasts, diced

2 tsp.

Chinese five-spice blend

2 tbsp.

soy sauce or coconut aminos

2 tbsp.

lemon juice or orange juice

2 tsp.

honey

1 tsp.

garlic, grated

1/2 tbsp.

coconut oil or olive oil

1 cup

cooked quinoa

2

eggs

1 cup, diced

Cal-Organic Yellow Onions

1 cup, sliced

Cal-Organic Rainbow Baby Carrots

1 cup

frozen green peas

1/3 cup

soy sauce or coconut aminos

1 tsp.

sesame oil

2 cloves

garlic, grated

2 tsp.

ginger, grated

1/2 tbsp.

coconut oil or olive oil
Directions
To cook the chicken:
In a small mixing bowl, add soy sauce, Chinese five-spice blend, lemon juice, honey, and garlic. Whisk until combined, then pour over diced chicken.
In a sauté pan, add a half tablespoon of oil and cook chicken on medium-high heat until cooked through.
To cook the quinoa:
In a wok or large sauté pan, add a half tablespoon coconut oil over medium-high heat, then add onion and carrots. Stir-fry for two minutes or until onions are translucent.
Add quinoa and stir, making a gap in the middle of the pan.
Crack both eggs in the middle of the quinoa mixture. Stir eggs until cooked, then combine with quinoa, onions and carrots.
Add cooked chicken, peas, soy sauce, sesame oil, garlic and ginger. Stir until everything is combined and garnish with green onions. Enjoy!
Recipe created by The Food Dolls
Recipe E-book
Back To Our Roots
12 sweet, savory, and fresh recipes using our favorite Cal-Organic root vegetables.
Download