Mashed Carrots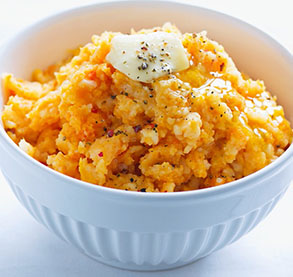 Cooking Times
Ingredients
Directions
Wash and peel the carrots and cook them in as little boiling, salted water as possible until they are tender. Drain, reserving the liquid for later use in soups, gravies, and the like.
Now, pretend the carrots are potatoes and mash them in exactly the same way, adding as little milk as necessary to make them light and fluffy.
Season to taste with salt and pepper, turn out into a serving dish and top with butter or margarine.
Recipe and image from our e-book Festive Holiday Recipes
Recipe E-book
Back To Our Roots
12 sweet, savory, and fresh recipes using our favorite Cal-Organic root vegetables.
Download