Grilled Lettuce Wraps Filled with Corn, Rice and Beef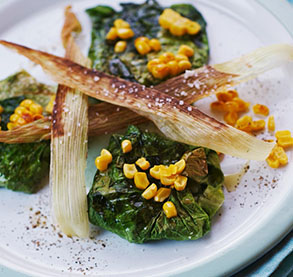 Cooking Times
Ingredients
Directions
Preheat grill to medium.
Cook lettuce leaves 2 or 3 at a time in a pot of boiling water, about 1 to 2 minutes. Transfer leaves to a bowl of ice water.
Once all the leaves are cooked, lay them out flat with smooth sides up on kitchen towel; pat excess water and let dry.
Lay the dry leaves out on a clean working surface. Divide the rice, corn, and steak evenly onto the leaves, a little off center nearer the bottoms.
Gently roll up each bundle from the bottom, bringing in sides as you go. Brush all the wrapped bundles with olive oil.
Carefully place the wraps on the grill, with the seamed side down. Cook for about eight minutes, turning once halfway through.
Transfer to serving plates; season with salt, pepper & paprika and garnish with additional corn kernels.
Recipe and image from our e-book Summer Salads & Backyard BBQ
Recipe E-book
Back To Our Roots
12 sweet, savory, and fresh recipes using our favorite Cal-Organic root vegetables.
Download