Grilled Caesar Salad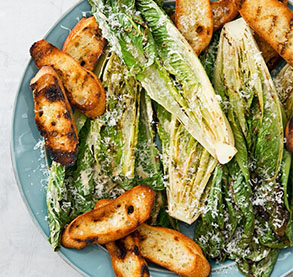 Cooking Times
Ingredients
2 hearts, outer leaves discarded, sliced in half lengthwise

Cal-Organic Green Romaine Lettuce

2 tbsp.

mayonnaise

2 tsp.

dijon mustard

2

garlic cloves, pressed

1/4 cup

fresh squeezed lemon juice

Kosher salt, to taste

Freshly ground black pepper, to taste

1 cup

extra virgin olive oil

1/2 cup

grated Parmesan cheese, plus additional for finishing
Directions
Preheat grill medium to low.
Place mayonnaise, mustard, garlic, lemon juice, salt, and pepper into the bowl of a food processor. Process until well incorporated and smooth.
With the food processor on, slowly pour in the olive oil. Continue to process until thick and creamy.
Add the Parmesan cheese and pulse just a few times to combine. Set aside.
Lightly brush the cut sides of the romaine with olive oil. Place on the grill, cut side down. Cook for two minutes; remove from heat to a large serving plate.
Brush the grilled romaine with the Caesar dressing to preference and sprinkle with freshly grated Parmesan over the tops. Serve with grilled slices of baguette on the side.
Recipe and image from our e-book Summer Salads & Backyard BBQ
Recipe E-book
Back To Our Roots
12 sweet, savory, and fresh recipes using our favorite Cal-Organic root vegetables.
Download