Grilled Beets with Wilted Greens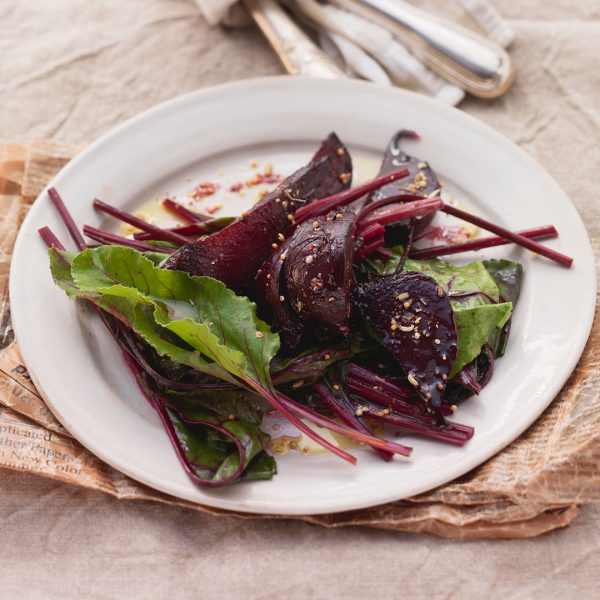 Cooking Times
Ingredients
6 medium

Cal-Organic Red Beets

3 tbsp.

olive oil, plus extra for drizzling

1/4 tsp.

salt

1/4 tsp.

cracked black pepper

2 sprigs

fresh thyme

2 tsp.

butter
Directions
Prepare your grill for indirect cooking at medium to high heat.
Remove greens from the beetroot and set aside.  Scrub the beets and trim the ends.
In two batches of three beets each, place the beets on a sheet of aluminum foil.  Drizzle each batch with olive oil and season with salt and pepper.  Add a sprig of thyme to each foil packet, cover the beets with foil and fold the edges to secure.
Cook the beets in the foil packets, on indirect heat with the lid closed for 45 to 55 minutes.  To check for doneness, pierce beets with a skewer or the tines of fork.
Remove the foil packets from the grill, and let rest for about ten minutes.
Meanwhile, rinse the beet greens and shake to dry.
Heat a splash of olive oil and butter in a skillet.  Sauté the beet greens until just wilted then season lightly with salt and pepper.
Carefully open up the foil, and peel the skin off the beets using paper towels.
Cut the beets into wedges and divide the beets and greens among plates.  Drizzle with olive oil and serve.
Recipe and image from our e-book Back to Our Roots
Recipe E-book
Back To Our Roots
12 sweet, savory, and fresh recipes using our favorite Cal-Organic root vegetables.
Download