Four Herb Parisian Carrot Salad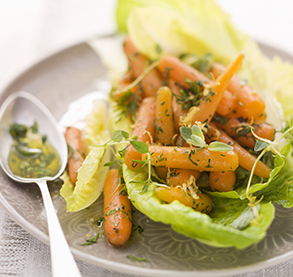 Cooking Times
Ingredients
Directions
Drop carrots into saucepan of boiling water. Return to boil and cook 5 minutes or until tender-crisp. Drain, running cold water over carrots.
Combine carrots with all other ingredients except lettuce and toss well for 2 minutes to bruise herbs and bring out flavor. Cover and chill until ready to serve. Turn into salad bowl or plates lined with lettuce.
Recipe E-book
Back To Our Roots
12 sweet, savory, and fresh recipes using our favorite Cal-Organic root vegetables.
Download