Farm Fresh Tomato with Avocado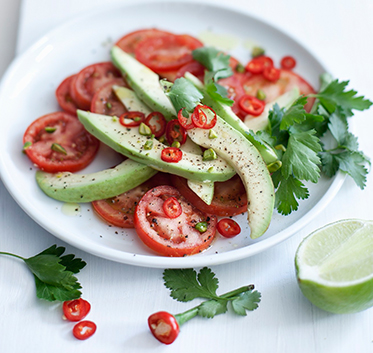 Cooking Times
Ingredients
2-3 medium

tomatoes, sliced

1

avocado, sliced thin

1

red Fresno chili pepper, sliced thin

1/4 cup leaves

Cal-Organic Cilantro

2 tbsp.

olive oil

1/2

lime

1 tsp.

salt
Directions
Slice the tomatoes and arrange on a plate.
Slice the avocado and place over tomato slices.
Next, slice the chili pepper and sprinkle over the tomatoes and avocado.  Garnish the plate with cilantro leaves.
Dress the salad with olive oil and a squeeze of lime juice.  Season with salt and serve immediately.
Recipe and image from our e-book Back to Our Roots
Recipe E-book
Back To Our Roots
12 sweet, savory, and fresh recipes using our favorite Cal-Organic root vegetables.
Download