Creamy Carrot Casserole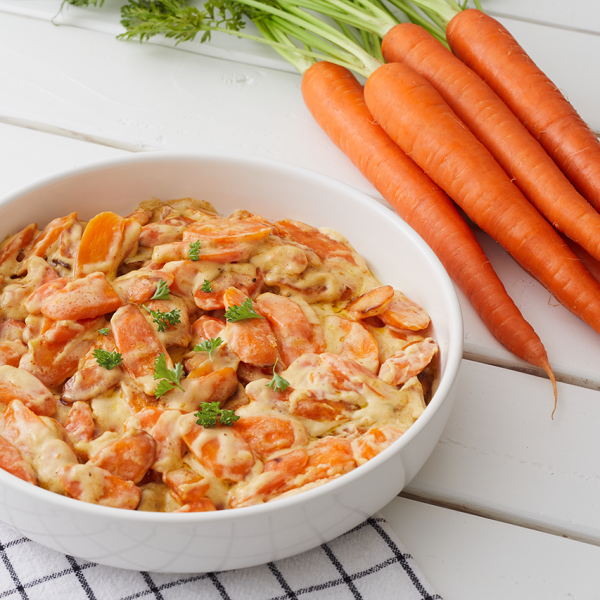 Cooking Times
Ingredients
4 tbsp.

unsalted butter

1 tbsp.

all-purpose flour

1½ cups

heavy cream

3

garlic cloves, smashed

1½ cups

panko breadcrumbs
Directions
Heat oven to 350° Fahrenheit. Lightly coat a 2-quart casserole dish with butter and set aside.
Wash and peel carrots, then cut on the bias into ¼" thick slices.
Heat 2 tablespoons of butter in a large frying pan over medium heat. Add carrots, salt and pepper. Stir occasionally until the carrots start to brown, about 8 minutes.
Sprinkle flour evenly over the carrots, stirring constantly. Cook until flour turns golden in color, about 2 minutes. Pour in the heavy cream, bring to a boil, then remove from heat.
Transfer the mixture to the casserole dish and cover with aluminum foil. Bake about 25 minutes.
Heat remaining 2 tablespoons of butter in a medium frying pan over medium heat. Add garlic and cook for 3 minutes.
Add breadcrumbs to the pan and season with salt. Stir occasionally until panko is lightly toasted, about 5 minutes. Move to a bowl and remove garlic.
When the casserole is ready, remove foil and allow to sit for 5 minutes. Sprinkle toasted breadcrumbs evenly over the top and serve.
Recipe E-book
Back To Our Roots
12 sweet, savory, and fresh recipes using our favorite Cal-Organic root vegetables.
Download