Chicken Tortilla Soup with Rainbow Carrot Chips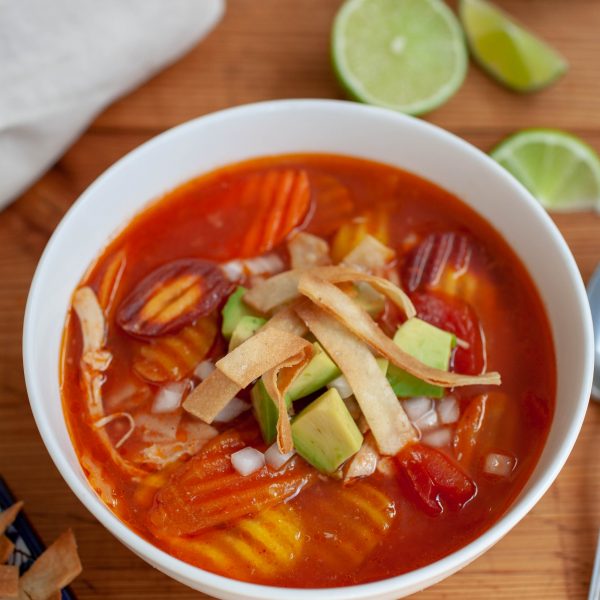 Cooking Times
Ingredients
3 cups

shredded rotisserie chicken

6-8

corn tortillas, sliced into strips

1

jalapeno or serrano chili, sliced (optional)

2 cloves

garlic, minced

2, 28 oz. cans

diced tomatoes

1 tsp.

cumin

1/2 tsp.

chili powder

4 cups

chicken stock

1 cup

water

1/4 cup

vegetable oil

Kosher salt, to taste

Freshly cracked black pepper, to taste

Diced avocado, for serving

Lime wedges, for serving
Directions
Dice the white onion and pick the cilantro leaves from stems. Set aside cilantro and ½ of chopped onions for garnish.
Heat the oil in a large, heavy pot or Dutch oven over medium high heat. Once oil is hot, add tortilla strips into the oil a handful at a time. Fry, stirring frequently, until they are golden and crispy, 2-3 minutes. Remove to a plate lined with paper towels. Repeat with remaining tortillas.
Reduce heat to medium and add ½ of the onions into the remaining oil. Cook onions for 4-5 minutes, until they are soft and translucent. Stir in garlic, jalapeno or serrano (if using), 1/2 teaspoon salt, a few turns of black pepper, cumin and chili powder. Cook for another minute, until fragrant, then add carrots and toss to coat. Pour in tomatoes, water (using the water to rinse any remaining tomato from the cans) and chicken stock. Bring to a boil then reduce heat to low and simmer.
Add chicken and half of the fried tortilla strips. Taste for seasoning. Add salt and pepper as needed. Let simmer for 25-30 minutes.
Serve topped with tortilla strips, diced onion, avocado, cilantro and lime.
Recipe E-book
Back To Our Roots
12 sweet, savory, and fresh recipes using our favorite Cal-Organic root vegetables.
Download