Carrot Quiche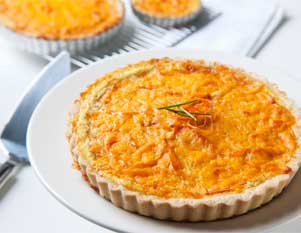 Cooking Times
Ingredients
1 1/2 cups

all-purpose flour

1/2 tsp.

salt

1 stick

unsalted butter, chilled and cut into 8 pieces

1 cup and 3 tbsp.

half & half, divided

10 oz.

Cal-Organic Shredded Carrots

1/2 cup

orange juice

3

eggs

1/2 tsp.

salt

1/4 tsp.

pepper

1/2 tsp.

ground nutmeg

4 oz.

cheddar cheese, grated
Directions
Preheat the oven to 400 degrees Fahrenheit.
In a food processor, add the flour and salt and pulse several times. Add the butter and pulse several more times and then process for about 1 minute until mixture resembles grated Parmesan cheese. Add 3 tbsp. of half and half and pulse several more times until the mixture comes together.
Dump the mixture into a pie pan. Press the crust firmly into the pan with your fingers, being sure to press up the sides of the pan. Bake the crust for approximately 12 minutes.
As the crust is prebaking, place the shredded carrots and orange juice in a sauce pan and cover. Heat on medium for 10 minutes.
Once the crust is prebaked, whisk together the eggs, half and half, salt, pepper and nutmeg.
Place the filling into crust by adding the cooked carrots, egg mixture and sprinkle with the cheese.
Bake for 20 minutes. Allow to cool slightly before slicing and serving.
Recipe E-book
Back To Our Roots
12 sweet, savory, and fresh recipes using our favorite Cal-Organic root vegetables.
Download