Carrot Delight Salad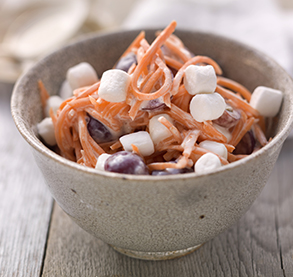 Cooking Times
Ingredients
4 cups,

Cal-Organic Shredded Carrots

1 cup

grapes or pineapple tidbits

1 cup

sour cream

3 tbsp.

honey

1/4 cup

lemon juice

1 cup

mini marshmallows
Directions
Combine shredded carrots and lemon juice. Let stand in refrigerator for 30 minutes.
Add mini marshmallows and grapes or pineapple tidbits. Combine honey with sour cream. Toss dressing and carrot mixture together.
Recipe E-book
Back To Our Roots
12 sweet, savory, and fresh recipes using our favorite Cal-Organic root vegetables.
Download