Cal-Organic Veggie Roll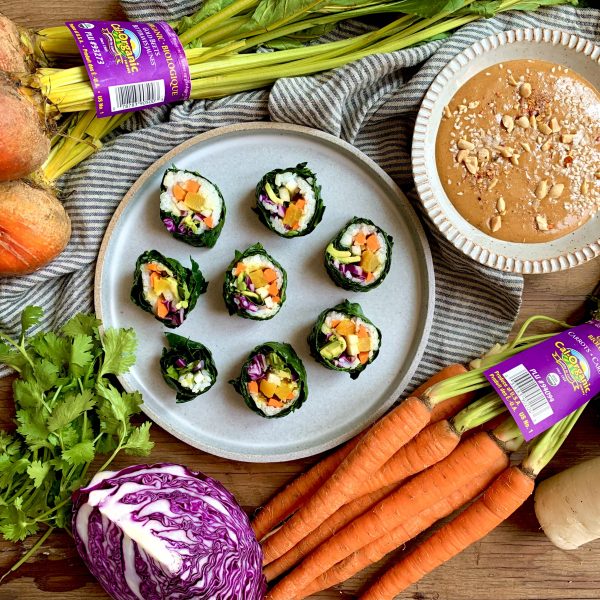 Cooking Times
Ingredients
Directions
Preheat oven to 400° Fahrenheit. 

Remove the greens from the beets and scrub the roots clean. Peel the carrots and daikon and thinly sliced into 3-inch long matchsticks. Finely shred the red cabbage, and halve and thinly slice the avocados. 

Place the beets in foil and drizzle with extra virgin olive oil. Tightly wrap and then place on a small baking sheet for easy handling. Roast for 75-80 minutes or until easily pierced with a knife. Remove and let cool slightly. Once cool, peel off the skin and slice into matchsticks about 1/2-inch thick. 

Bring a large stockpot of water to a boil, liberally season with salt. Prepare an ice bath in a bowl nearby. Add whole kale leaves to the boiling water, pushing down so they are submerged, for 45-60 seconds or until bright green, then immediately place in the ice bath. Remove, pat dry, and cut out the inner rib leaving as much of the tip of the kale intact.
Cut Roll
To make a cut roll, take 3 large pieces of kale and place them down on the cutting board. Lay 1 horizontally, folding up the ends to create an 8-inch piece, then place the other 2 leaves vertically on top, folding the ends in to make a 5×8 inch rectangle. 
Next add 1/4 cup cooked rice, spreading it out with your fingers, leaving about 1-inch from the top and 1/2-inch from the sides. Add a sprinkle of sesame seeds and salt then add 3-4 pieces of beet, 4-5 pieces of carrot, 3-4 pieces of daikon, a handful of cabbage followed by 3-4 sprigs of cilantro and lastly 6 slices of avocado spread out across horizontally. 
Starting from the bottom roll the kale upwards, tucking the filling back in as needed, like you would a burrito. Once you get to the top tuck everything in and slide the remaining kale underneath so it pulls taught. Cut in half, then cut into 8 even pieces. 
Hand Roll
To make a hand roll, take 2 pieces of kale and lay them over one another horizontally to form a 4×10 inch rectangle. Tuck pieces under one another so it forms a solid rectangle, that way none of the ingredients can fall out. Starting from one side roll it on top of everything then take into your hand and form into a cone, the bottom coming together while the top is still open, like an ice cream cone. 
Dipping Sauce
To make the dipping sauce, add garlic, peanut butter, water, tamari, light brown sugar, rice wine vinegar and sesame oil to a small food processor and blend on high until smooth and creamy. Pour into a bowl and serve alongside the rolls for dipping. Enjoy!
Recipe Courtesy of Megan Mitchell
Recipe E-book
Back To Our Roots
12 sweet, savory, and fresh recipes using our favorite Cal-Organic root vegetables.
Download