Buttery Baby Red Potatoes with Green Onions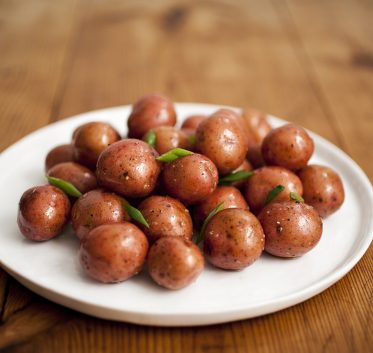 Cooking Times
Ingredients
1 lb, scrubbed

Cal-Organic Red Potatoes

3 tbsp.

melted butter

1 tsp.

kosher salt

1/2 tsp.

granulated onion

1/2 tsp.

garlic salt

1/2 tsp.

freshly cracked black pepper
Directions
Preheat the oven to 425 degrees. Line a baking sheet with aluminum foil.
Thinly slice the onions, separating green parts from the white and light green parts. Add white and light green parts to a large bowl. Reserve green parts for garnish.
Add potatoes to the bowl with onions, toss with melted butter and spices. Spread the potatoes into an even layer on the baking sheet.
Bake at 425 for 20 minutes, or until tender. Stir halfway through baking.
Toss with green onion tops before serving.
Recipe E-book
Back To Our Roots
12 sweet, savory, and fresh recipes using our favorite Cal-Organic root vegetables.
Download