Beet & Kale Salad with Raspberry Vinaigrette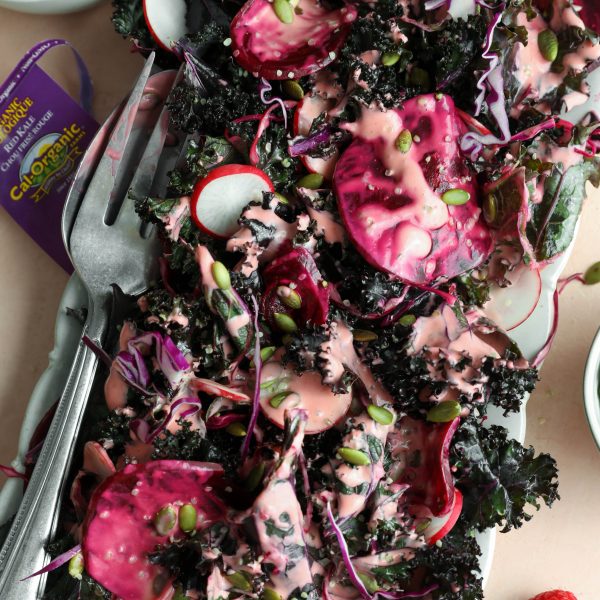 Cooking Times
Ingredients
Directions
1. Preheat oven to 400° Fahrenheit.
2. Remove the greens from the beets and scrub the roots clean. Place the beets in foil then drizzle with extra virgin olive oil, about 1/4 cup. Tightly wrap then place on a small sheet tray for easy handling. Roast for 60-65 minutes or until easily pierced with a knife. Remove and let cool slightly. Once cool, peel away the skin and thinly slice.
3. While the beets are cooking, wash the kale, cabbage and radishes. Finely chop the kale, shred the cabbage and thinly slice the radishes.
4. Add the kale and red cabbage to a large mixing bowl and squeeze lemon, drizzle oil, and add a pinch of Himalayan sea salt. Massage the lemon and oil into the kale with your hands until the kale leaves are well-coated and shrink in size. Allow the kale to marinade for 5 minutes before serving.
5. Make the raspberry vinaigrette. Add the raspberries, 1/2 cup olive oil, red wine vinegar, maple syrup, dijon mustard and salt to a high-speed blender or food processor and blend until the mixture is smooth and creamy, scraping down the sides as needed to recombine. Add 2-4 TBSP of filtered water to thin the dressing to a pourable consistency. Taste and add a little more maple syrup for sweeter dressing. Refrigerate the dressing until ready for use.
6. Toast the pepitas to a small saucepan on the stovetop over medium heat. Heat them for 5-10 minutes, tossing frequently, until the pepitas are fragrant and start to lightly crisp. They'll start to pop when they're done! 
7. To assemble the salad, add the sliced beets, sliced radish, toasted pepitas, and hemp hearts on top of the kale. Drizzle with raspberry vinaigrette and serve immediately.
8. Store leftovers in an airtight container in the refrigerator for up to 5 days.
Recipe courtesy of Flora & Vino
Recipe E-book
Back To Our Roots
12 sweet, savory, and fresh recipes using our favorite Cal-Organic root vegetables.
Download