Beet Hummus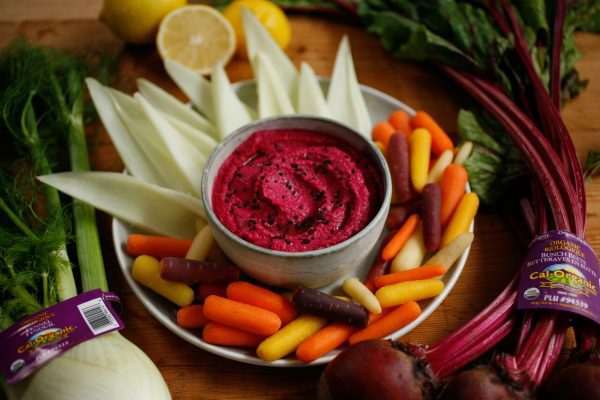 Cooking Times
Ingredients
1 large

Cal-Organic Red Beets

1 can

chickpeas, rinsed and drained

1/4 cup

tahini

1 clove

garlic, peeled and smashed

3 tbsp.

olive oil

1 tsp.

harissa (optional)

2 tbsp.

lemon juice

1 tsp.

kosher salt

1/2 tsp.

freshly cracked black pepper

Black sesame seeds, for garnish
Directions
Preheat oven to 425 degrees Fahrenheit. Scrub the red beet.
Place beet on a large piece of foil. Sprinkle with a tablespoon of oil; and wrap completely in foil. Bake for 40 to 45 minutes or until the beet can be easily pierced with a knife. Let cool until easy to handle.
Once cooled, use a paper towel or your hands to peel off the skin. Wash your hands immediately to prevent staining. Cut the beet into small chunks, then add to the bowl of a food processor.
Add chickpeas, tahini and olive oil to the food processor. Pulse until mostly smooth. Add garlic and harissa (optional) and pulse again until completely smooth. Sprinkle in lemon juice, salt and pepper. Pulse a few more times and taste for seasoning.
Transfer mixture to a serving bowl. Sprinkle with black sesame seeds and serve with your favorite Cal-Organic vegetables. Beet hummus will stay fresh in the refrigerator for 3 to 4 days.
Recipe E-book
Back To Our Roots
12 sweet, savory, and fresh recipes using our favorite Cal-Organic root vegetables.
Download