Balsamic Roasted Baby Carrots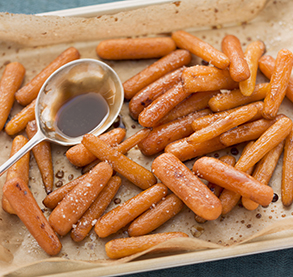 Cooking Times
Ingredients
Directions
Preheat oven to 400 degrees Fahrenheit.
In a shallow roasting pan, toss carrots with olive oil, then sprinkle with salt. Roast until tender for about 20 minutes, stirring occasionally.
Remove pan from oven and drizzle balsamic vinegar over carrots, then shake pan to evenly coat. Roast for another 5-10 minutes until carrots are tender, golden and glazed.
Variation: You can substitute sliced fennel for the baby carrots for a roasted, fragrant fennel dish.
Recipe E-book
Back To Our Roots
12 sweet, savory, and fresh recipes using our favorite Cal-Organic root vegetables.
Download