Vegetarian Chili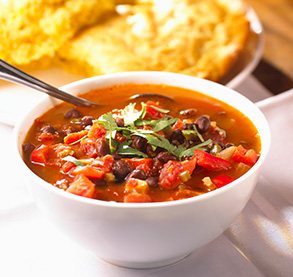 Slow Cooker Recipe
Cooking Times
Ingredients
1 lb.

dried black beans

1 medium

Cal-Organic Yellow Onions

1

green bell pepper

1

jalapeño pepper

1/2 tsp.

ground cumin

1

bay leaf

1/2 cup

canned tomatoes

8 cups

water

1 tbsp.

red wine vinegar

2 tsp.

kosher salt

For garnish,

Cal-Organic Cilantro
Directions
Rinse beans under cold running water and drain. Place in the slow cooker and cover with 3 inches of water. Soak for 6 hours or overnight.
Drain beans and add to cooker. Finely chop onion, bell pepper and jalapeno. Add to cooker with cumin, bay leaf, diced tomatoes and water to cover.
Cover and cook on high for 4 to 6 hours. Check beans at 3 hours. Keep beans covered with liquid during cooking. When done, they will be tender and hold their shape.
Remove bay leaf, add vinegar, and season to taste with salt. Serve hot, garnish with cilantro.
Recipe and image from our e-book Hearty Slow Cooker Recipes
Recipe E-book
Back To Our Roots
12 sweet, savory, and fresh recipes using our favorite Cal-Organic root vegetables.
Download