Mini Carrot Cheesecakes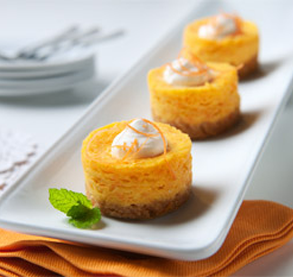 Cooking Times
Ingredients
1/2 cup

Cal-Organic Shredded Carrots

1/2 cup

graham cracker crumbs

3 tbsp.

unsalted butter, melted

1 1/2 tbsp.

sugar

1 (8-oz.) package

cream cheese, softened

1/2 cup

sugar

1

egg

1/4 tsp.

ginger

1/2 tsp.

vanilla extract

1/2 cup

whipped cream topping

4 tbsp. finely grated

Cal-Organic Bunch Carrots
Directions
Preheat the oven to 350 degrees Fahrenheit.
In a bowl, combine graham cracker crumbs, melted butter, sugar and 2 tablespoons of grated carrots, then mix together with a fork. Spoon about a teaspoon of the mixture into 24 greased mini cupcake molds. Evenly distribute the mixture to fill all 24 molds and press with your fingers to create a crust.
In a large bowl, combine the cream cheese, sugar, egg, ginger and vanilla extract. Mix with an electric hand mixer until well combined and creamy. Fold in 1/2 cup shredded carrots. Spoon the mixture evenly over the crusts in all 24 of the mini cupcake molds.
Bake for 15 minutes. Allow to cool slightly and then refrigerate in the molds.
After at least 2 hours or up to 8 hours, remove the cheesecakes from the molds with a small offset spatula. Garnish each with a dollop of whipped cream and finely grated carrots, then serve.
Recipe E-book
Back To Our Roots
12 sweet, savory, and fresh recipes using our favorite Cal-Organic root vegetables.
Download