Roasted Sweet Potato, Chicken and Black Bean Lettuce Wraps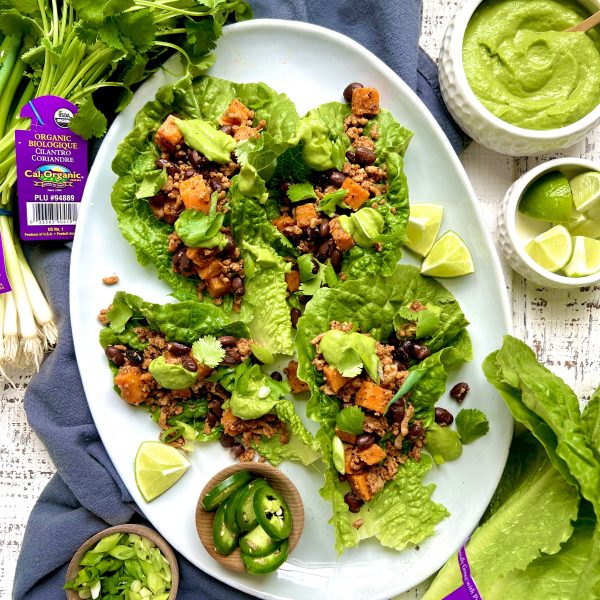 Cooking Times
Ingredients
1 large

sweet potato, peeled and diced into 3/4-inch cubes

Extra virgin olive oil,

for drizzling

Kosher salt,

to taste

Black pepper,

to taste

1 pound

ground chicken (turkey or pork work as well)

3/4 cup

water

1 1/2 tsp.

chili powder

1 1/2 tsp.

cumin

1 1/2 tsp.

smoked paprika

1/2 tsp.

garlic powder

1/4 tsp.

cayenne

15 ounce can

black beans, drained and rinsed

1 bunch

Cal-Organic Green Onions

1 bunch

Cal-Organic Cilantro

2 large

avocados

1 small

jalapeño, roughly chopped

1

lime, zest and juice

Lime wedges,

for garnish
Directions
1. Preheat oven to 400F. Wash the romaine lettuce and pat dry. Separate into individual leaves and set aside. Wash and peel the sweet potato and dice into 3/4-inch pieces.
2. Place the peeled and diced sweet potato on a medium sheet tray. Drizzle with EVOO and sprinkle with salt and pepper. Toss to coat then spread out in a flat, even layer. Roast for 10 minutes, remove and toss then roast for another 10-12 minutes or until tender and golden brown.
3. While the potatoes roast, cook the chicken. Bring a high sided, nonstick 10-inch skillet up to heat over medium. Drizzle in 1-2 tbsp. EVOO then add in the chicken. Cook, breaking into smaller pieces, for 6-8 minutes. Reduce the heat to medium low and add in 1/4 cup of water, chili powder, cumin, paprika, garlic powder, cayenne and a large pinch of salt and pepper. Stir to combine. 
4. Once the sweet potatoes have roasted, add directly to the skillet along with the black beans. Stir together and keep warm on low. 
5. Next, make the avocado crema. To a high-power blender (or food processor) add 4 stalks of green onions chopped into 2-inch pieces, scooped out avocados, chopped jalapeño, zest and juice from the lime, 1/2 cup packed cilantro, and 1/2 tsp. salt. Lastly add 1/2 cup water, depending on how juicy your limes are you may need more or less. Starting on low, blend together, stopping and starting as needed to push the ingredients down. Blitz on high until a smooth sauce forms. Taste for seasoning, adding more salt or lime if needed. It should be bright green, a little tart and creamy. If you want it looser, add more water. 
6. If serving family style, place the romaine cups on a platter along with thinly sliced green onions, cilantro and lime wedges for serving. Pour the crema into a bowl for drizzling on top. Grab 1 lettuce cup and scoop some of the chicken, sweet potato and black bean mixture into it. Top with a sprinkle of green onions, cilantro sprigs and a drizzle of crema. Serve with lime wedges and extra sauce. 
Recipe Courtesy of Megan Mitchell
Recipe E-book
Back To Our Roots
12 sweet, savory, and fresh recipes using our favorite Cal-Organic root vegetables.
Download