Winter Tomato Soup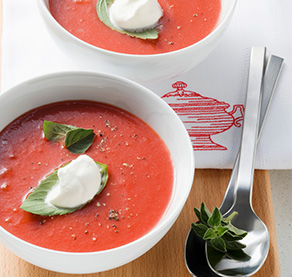 Slow Cooker Recipe
Cooking Times
Ingredients
2 medium

Cal-Organic Yellow Onions

1/2 cup

unsalted butter

28 oz.

crushed tomatoes, Italian style

1/2 cup

vermouth or dry white wine

1 tbsp.

sugar

1 tsp.

tarragon

2 tsp.

kosher salt, to taste

1 tsp.

black pepper, to taste

sour cream, for serving

fresh basil, for garnish
Directions
Peel and chop the onions. Melt the butter in a large skillet over medium heat. Add onions and cook, stirring, until golden, about 15 minutes.
Combine tomatoes, vermouth, sugar, and tarragon in the slow cooker. Add the onions and butter, scraping out the pan.
Cover and cook on low for 5 to 6 hours.
Puree with an immersion blender. Season to taste with salt and pepper.
Ladle the hot soup into bowl and garnish with a spoonful of cold sour cream and a fresh basil leaf.
Recipe and image from our e-book Hearty Slow Cooker Recipes
Recipe E-book
Back To Our Roots
12 sweet, savory, and fresh recipes using our favorite Cal-Organic root vegetables.
Download